Tracking BCBA supervision hours
Bryce Kaiser
Becoming a BCBA requires you to complete fieldwork while supervised by a qualified BCBA supervisor. This post will guide you through some tips for documenting your fieldwork experience. Remember that every situation is unique so you should speak with your supervisor(s) and credentialing bodies for the latest requirements and best practices.
Do I need to track my BCBA supervision hours?
The BACB used to require that all applicants submit detailed documentation of their fieldwork experience when applying to sit for the exam. Now, you are only required to provide detailed documentation of your fieldwork experience if you are audited. That means there is a chance you will not need to provide documentation, but that is not a good enough reason to avoid documenting your fieldwork experience.
Why should I track my fieldwork experience?
There are multiple reasons why you should document your fieldwork experience including visualizing your progress, communicating your progress to your supervisors, and in the event of an audit or dispute.
Visualizing your progress - It's difficult to mentally keep track of how many hours you have worked and which activities were direct/indirect or restricted/unrestricted. Taking time each day to document what you did makes it a lot easier for you to reflect on your progress at the end of each month.
Communicating your progress to your supervisor(s) - Your supervisor is typically not in the room with you for every hour that you are working, but they do need to know how you spent your time. A fieldwork tracker should make it easy for you to share your daily activities with your supervisor for them to review or you can choose to speak about each activity when you are together. Your supervisor might notice some interesting patterns in your activities or identify some activities that you have mislabeled as restricted/unrestricted.
Audits or disputes - The BACB board or a state/local board may ask you to provide documentation of your fieldwork experience when you apply for a credential. Audits do happen, but they shouldn't be scary if you have your documentation in order. Your fieldwork tracker should make it easy to share proof of your work with any board.
Also, sometimes there are disputes between supervisors and trainees that are reviewed by the board. If you can prove you did everything the right way, it can help you win a dispute and avoid losing out on hundreds or thousands of fieldwork experience hours. In some cases, trainees are unable to get a signature on a monthly or final experience verification form because the trainee can no longer contact the supervisor (usually because of a change of employment). The trainee can typically prove that they did everything in the power to meet the fieldwork requirements and the board may make an exception for the trainee.
How do I track my fieldwork experience?
The BACB allows you to use any unique fieldwork tracking system you choose. There are two pathways for documenting your hours: use an existing fieldwork tracker or create your own.
Use an existing fieldwork tracker - Many individuals and some companies have already created fieldwork trackers. While there are many to choose from, we recommend that you choose one that comes with some level of support from the creator. Your credentials may depend upon the accuracy of the data in the fieldwork tracker so pick one you can count on. We have created one that you may use at no charge and is fully supported by our team. Check out the Hoom House Fieldwork Tracker to see if you like it. Our fieldwork tracker includes compliances checks, visualizations of hours/pace, and easy export to share with your supervisor.
Create your own fieldwork tracker - The board allows you to create your own documentation system as long as it meets a few requirements. People who create their own tracking system typically create a spreadsheet that can be as simple as a single tab with every activity as a row in the sheet or more advanced by having each tab as a different month and one tab as a summary of all of the months which checks for compliance.
Documentation of fieldwork must include date, start time, end time, fieldwork type, setting name, supervisor name, restricted/unrestricted. Documentation of supervision must include date, start time, end time, format, fieldwork type, individual/group, restricted/unrestricted, was it an observation, and a summary. Here are the requirements pulled directly from the BACB's fieldwork requirements document.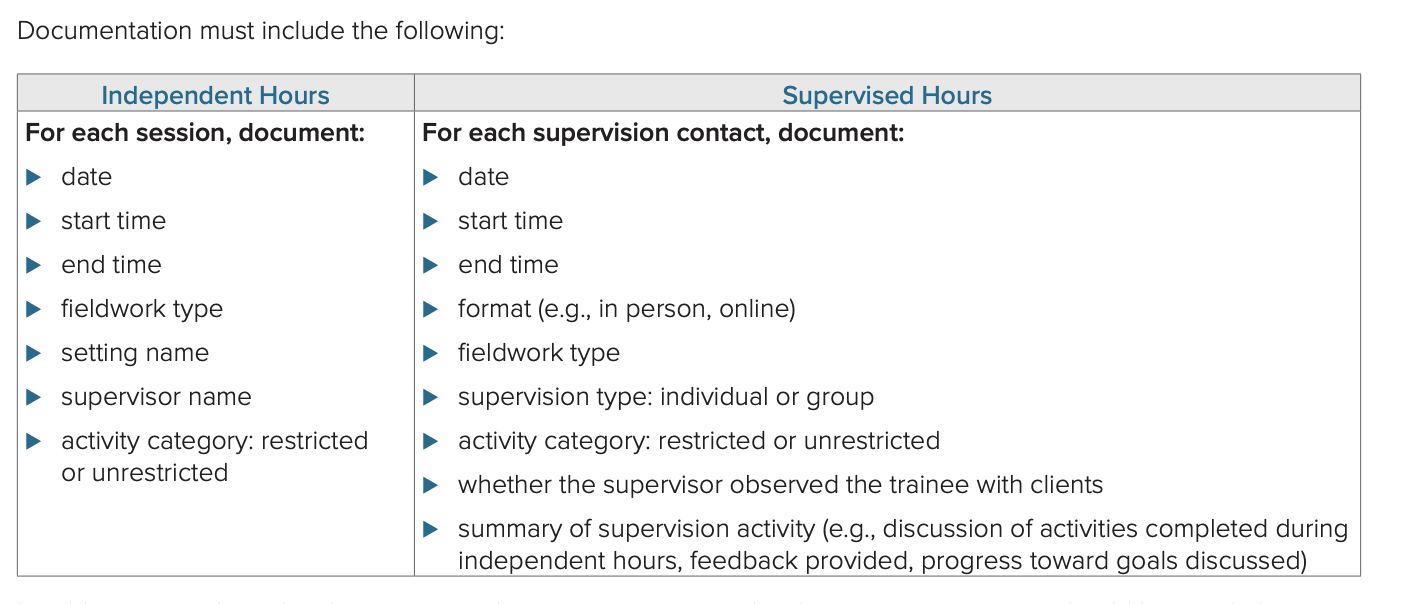 How precise do I have to document my fieldwork hours?
Which ever route you choose, we recommend that you document to at least 30 minute increments. It is not okay to create 1 activity entry for an entire day that has "worked with clients". You should be as detailed as possible so your supervisor and any credentialing body can look at that activity and know exactly what you were doing. The BACB does not require a written description or notes for independent activities, but we recommend that you write at least one sentence for each activity to provide context.
Please consider the privacy of clients when documenting. Do not include names or personably identifiable information for clients in your activities. Initials or a code name for each client is fine if you feel it is important to show that you were working with one or many clients in a given time period.
What if I need help documenting my fieldwork hours?
Here at Hoom House we offer complete support for documenting your fieldwork hours if you are using our fieldwork tracker. Even if you're not, we will still probably help you out!
Please keep in mind that requirements do change from time-to-time. Always defer to governing bodies for the latest requirements and best practices. Each situation is unique so you should build relationships with your peers, supervisors, and governing bodies so you have multiple perspectives.
Hoom House is not affiliated with the BACB. We are an independent organization that supports individuals in pursuit of credentials provided by the BACB.